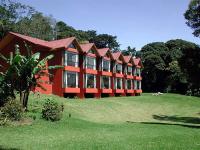 Fonda Vela
Location
Monteverde (Monteverde, Costa Rica)
Description
Excellent location, 2km from the Monteverde Cloud Forest reserve entrance (a 25 minute walk). Rooms are spread around 7 buildings and they have 2 restaurants, a bar, a games rooms and an art gallery. The grounds are spacious and well kept, they also have there own herb and vegetable plot.
Activities
There are a series of private hiking trails which can be followed, with or without guide.

Accommodation
Rooms are spread throughout the grounds. Standard rooms are comfortable and clean. Junior suites are more spacious with a sitting area, and large windows give great views to the forest.
When to go
All year round.