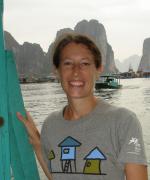 Having developed a passion for travel at a young age, Nikki headed to South America after completing a degree in French and Spanish (with a final year module in Latin American studies), and spent 6 months travelling the continent. A few of her highlights included an unplanned Christmas on the Bolivian salt flats, trekking the Inca Trail, a boat trip up the Amazon, and many nights spent sleeping out under the stars.
Following this adventure, Nikki made her way to Africa, where she spent several years working in travel, both "on the road" as a tour leader, and in the office, designing tailor-made tours. She has also travelled independently throughout South-East Asia, but finally moved back to the UK in 2016.
Top tip
Take time to enjoy each experience, meet the locals, and get a feel for the places you visit; don't just rush through as many countries as possible so you can tick them off your list.
Next 'must see'
There are so many places I have yet to visit, but Panama would have to be high up on the list - having completed an assignment on the Panama Canal at university, I have always wanted to go and see it for myself. I would also love to go diving in Belize, and to explore Cuba.