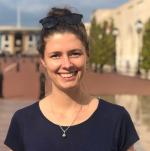 After finishing a Geography degree, Emily set off for 6 months of backpacking around South America to explore this liveliest of continents. Her highlights included kayaking in Bariloche, trekking to Machu Picchu, a 4 day trip across the Bolivian salt flats and hiking the 'W' trek in Torres del Paine - and she ended up coming back with a longer bucket list than when she left!
Three years after returning, and in a 'proper' job, she was missing fascinating Latin America so much that a chance to be a Travel Consultant at Last Frontiers was the only way forward.
Most memorable moment
Finally reaching the top of Mount Piltriquitrón (near El Bolsón, Argentina) and thoroughly enjoying the view as the only people there!
Top tip
Make time to relax - although there is always so much to see and do just remember you are on your holidays!
A walking tour on your first morning will give you a fantastic feel for a new city.
Next 'must see'
There is so much more of Latin America to see but my top destinations to visit are Mexico and Antarctica.
Emily's recommendations
Peru - Glimpsing Machu Picchu as the sunrises is a truly magnificent view and definitely worth an early start.
Brazil - Whilst in Brazil make sure you have a Caipirinha, the national cocktail made from cachaça - fermented sugar cane juice.
Argentina - Perito Moreno is even more spectacular in the afternoon when the ice has warmed up and you will hear deep rumbles as large chunks plunge into the water below.