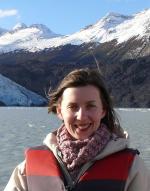 Following completing her degree in Zoology, Ali headed off to Peru to spend three months in the Tambopata Amazon region to take part in a biodiversity study. The numerous snakes, insects, sand flies and bot flies didn't put her off and she stayed longer than planned to backpack around South America.
A couple of years later, Ali joined Last Frontiers in 2004 and has enjoyed many trips since then - all considerably more comfortable than her backpacking days! She left us in 2012 to have a baby and spend some time in Canada but it wasn't long before she returned to her desk in Waddesdon. Being a wildlife enthusiast, her trips to Antarctica, Galapagos, all over the Amazon and Guyana, have been her favourites so far. Not to mention the diverse scenery and big landscapes of Argentina and Chile.
Most memorable moment
Watching giant river otters play and feed in the Peruvian Amazon was a special experience.
Top tip
Don't worry if something doesn't go to plan - earthquakes, strikes and volcanoes are just a few of the things which have affected our passengers over the years but the best thing to do is to relax and let us sort it out for you as best we can!
Next 'must see'
I have a lot of places on my list but I would love to drive the Carretera Austral in Chile or head to the north east of Brazil - a corner of the country I am yet to explore. Mexico is another vast country where I feel I have only just scratched the surface!
Ali's recommendations
Guianas - In Georgetown, an evening at the house of Roy Geddes, a real character and an aficionado (and maker) of steelpan drums, is a must.
Paraguay - The silver filigrana (filigree) jewellery in the town of Luque makes a lovely gift or souvenir.
Cuba - Salsa the night away at a Casa de la Trova in Trinidad (stay hydrated with Cuba Libres and Mojitos!)