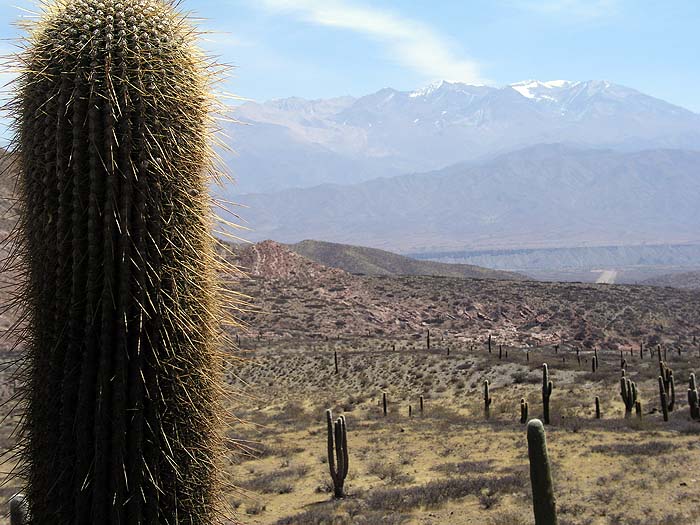 Northern Chile and Argentina
a self-drive itinerary visiting desert and vineyards with Andean culture and breathtaking scenery
This 14 night self-drive itinerary includes the Atacama desert, the unique scenery of north-west Argentina, the wineries of both Argentina and Chile and the UNESCO city of Valparaiso.
To enquire about this itinerary, or one like it, please email us or click the Enquire button.
Itinerary summary
Santiago
Day 1: Arrive in Santiago and stay a night in the city with an afternoon city tour to get your bearings.
The Atacama Desert
Days 2-4: Fly to Calama, gateway to the Atacama desert, and pick up your hire car (Suzuki Vitara or similar, with unlimited mileage, local tax, full CDW coverage, roadmap and descriptions). Drive to the pretty oasis village of San Pedro de Atacama (95km) to spend three nights. Highlights in the area include the eerie rock formations of the Valley of the Moon, the Atacama salt lake, the traditional white-washed adobe Andean villages of Toconao and Machuca, and you can arrange a tour to the Tatio geysers, where frozen vents thaw at dawn, sending plumes of vapour into the sky.
San Pedro - Purmamarca
Day 5: A full days drive (450km) takes you across the Chile/Argentina border through the Seven Coloured mountains to spend the night in the village of Purmamarca.
Purmamarca - Cachi
Day 6: Another long day driving (337km) through unbelievable scenery takes you south past Salta to Cachi, a picturesque Andean village.
Cachi - Cafayate
Day 7: Drive south to the wine producing region of Cafayate (162km), with time to stop at villages en-route.
Day 8: Spend a day relaxing in Cafayate. You can explore the nearby villages and amazing scenery of the Calchaquiés Valley and its cactus deserts, arrange some wine tasting at a boutique winery or relax at your hotel.
Cafayate - Belen
Day 9: Visit the famous archaeological site of Quilmes, which was the largest pre-Columbian settlement in the country dating back to 850AD, before continuing to Belen (270km).
Belen - La Union
Day 10: A full days drive (330km) with wonderful views of the Sierra de Famatina mountain range and a variety of landscapes, brings you to La Union.
La Union - Talampaya National Park - Villa San Agustin
Day 11: Drive to the UNESCO World Heritage site of Talampaya National Park, which aims to protect the important archaeological and palaeontological sites found in the area. There is a chance of seeing condor here. Continue to Villa San Agustin to overnight (180km).
Villa San Agustin - Mendoza
Day 12: Continue to the picturesque city of Mendoza (380km), in the foothills of the Andes, and the heart of the Argentine wine growing region.
Mendoza - Valparaiso
Day 13: A long day's drive, full of amazing scenery as you cross the Andes, will take you back across the Chile border to the UNESCO city of Valparaiso (490km).
Valparaiso - Santiago
Day 14: Drive back to Santiago (100km) to drop off your hire car for onward connections.
Notes:
This itinerary moves at a fast pace, and if time permits we would suggest more time in Purmamarca, Mendoza and Valparaiso at a minimum, to be able to explore these areas properly and have time to relax too!
Accommodation options
In the following section you will see our suggested options for possible accommodation.
The estimated flight cost included in this itinerary (assuming international flights from the UK plus any internal flights that are necessary) is £1,000 per person.
standard - £3,495
Hotel Altiplanico - A simple but comfortable hotel just outside town, handy for going out in the evening.
Viñas de Cafayate - A mock hacienda on the outskirts of Cafayate, with views to the vineyards.
Zero Hotel - A charming old house with fantastic views to the bay.
Price and validity notes
We have tried to give you as accurate an idea of prices as possible, including meals where appropriate (but not when there are good local options so you don't pay for a meal that you might not want), accommodation, transfers, and any tours we have included.
All prices are per person based on two people sharing a room and are intended as a guide (local high or low seasons can cause some variation). All prices were correct when published but may vary with exchange rate fluctuations, fuel surcharges, or changes in the general economic situation.